---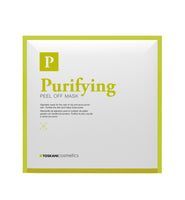 Toskani Purufying Peel Off Mask
Regular price $9.94
Tax included.
The Toskani peel off masks are a party for your skin! This mask has purifying and sebum-regulating properties and it is also an excellent toner. It also prevents inflammation of the skin. The mask is easy to use, feels great and gives a moment of pampering and relaxation. And then it also has a wonderful effect on the skin!
Skin type
The Purifying Peel Off Mask is a mask suitable for acne-prone skin types.
Use
You make the mask with a little water. The mask is suitable for applying over eyes and mouth. After applying, let the mask sit for 10 minutes. The mask will dry to a rubber-like structure that you can remove from your skin after 10 minutes.
Tips
Make it a complete treatment by treating your skin in advance with the Toskani dermaroller or the mini pumpkin mask or the Tebsikin Gly C ampoules.
Also discover the 5 other peel off masks and accompanying home care routine.
Ingredients
One of the main active ingredients, Maris Limus extract, contains elements such as sulfur and zinc. These elements are antiseptic and antibacterial and have detoxifying, sebum-regulating and mattifying properties.
The mask contains Salix Alba Leaf extract, an ingredient that contains salicylic acid. Salicylic acid counteracts the activity of the P. acnes (Propionibacterium acnes) bacteria. The menthol leaves in the mask ensure that the skin feels supple, relaxed, refreshed and firmed after use.
30 grams